Strathbogie Ranges Victoria Australia
Welcome
This 20 acre property was acquired by Jenny Houghton in 1994, for its viticulture potential and as a location for her bed and breakfast cottage. Three acres was hand planted in 1997 into a light sandy loam. It is ideally situated in the Strathbogie Wine Region right on the border with the Goulburn Valley.

Planting has increased to 6 acres; 2 acres of Cabernet Sauvignon and 4 acres of Shiraz. Strict viticultural policy with pruning, spraying and hand picking has achieved the required low yield per vine. This has consistently produced small berries of intense colour and flavour.

The altitude of 200 metres, combined with the light sandy loam and intensive monitoring, has produced grapes that enable a wine of elegance and complexity to be produced.
Moon Landing 50th Anniversary Dinner
A wonderful evening was had by all those who attended a dinner on the 20th of July to commemorate the 50th Anniversary of Man landing on the Moon. I think most those who attended could even remember the event!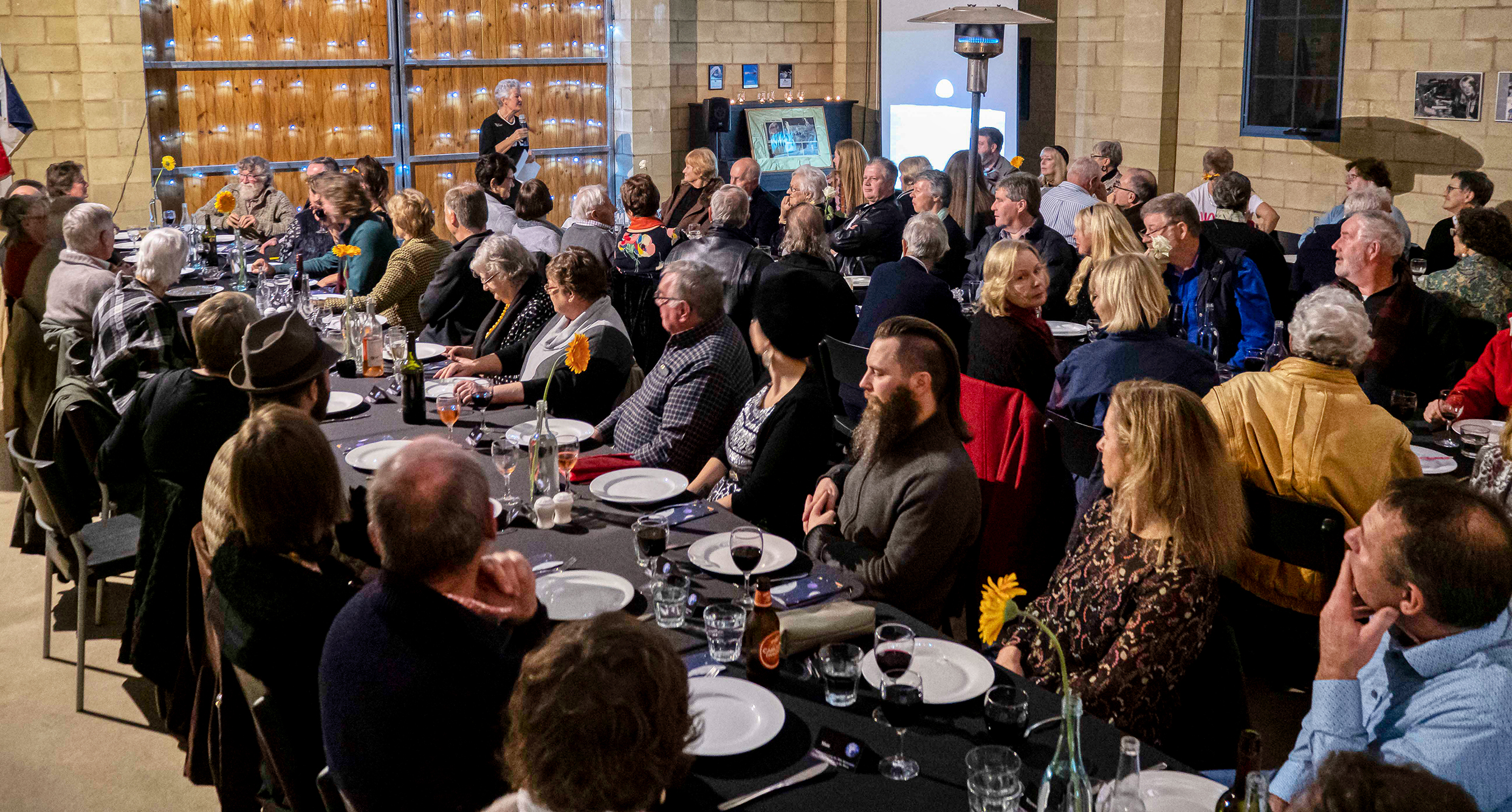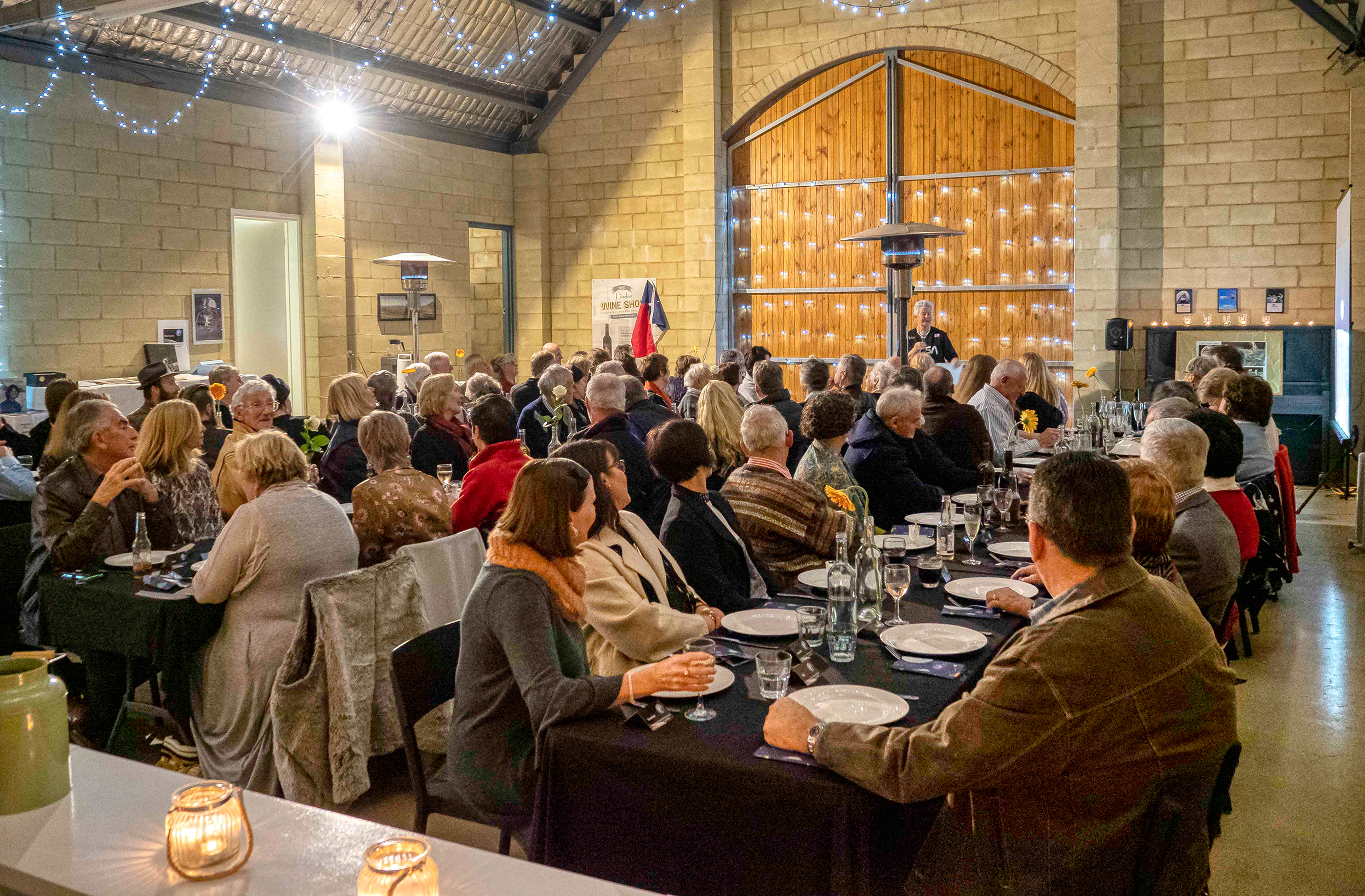 New Rosé

I'm delighted to say that over a glass of Rose it was remarked that Bryans artwork would look mighty fine as the Rose label… and here it is!
Limited quantities only.
$18 per bottle $200 per case. Ask about our delivery…
Beautiful buildings, theatres, cafes, illusion, circus, dance, music, travel and fine red wine - all inform my art. The work 'Carnivale' was inspired by my love of and passion for, the mystery that is Venice.

Bryan Dawe
Maygars Hill 2016 Reserve Shiraz Chosen in James Halliday's
Top 25 Best Reds for 2018
"I'm delighted to stand with the other awardees chosen by James to be in his 25 best reds over $30. It's also a great opportunity to recognise the role of viticulture in producing a standout wine. Great practices in the vineyard are a significant part of the story. This little patch of dirt in the Strathbogie foothills of Victoria, is delivering way beyond it's due.
6 acres of shiraz and cabernet, hand planted from cuttings delivers small intense berries that produce wine of great colour and intensity.
"As I approach pruning, I'm mindful of each vine and what it looks like it needs to be healthy and happy for the next growing season. I was able to work with ideal weather
conditions this season to us to have serious wine and recommendations as below."
Jenny Houghton - Maygars Hill
James Halliday Review
2016 Reserve Shiraz
This is the best Reserve Shiraz that Maygars has made to date. There is an urgency, a freshness to the expression of the Shiraz, and new oak has been easily absorbed on the long palate. This isolated vineyard is one of the jewels of the Strathbogie Ranges. 13.5% alc. Rating 96 To 2036 RRP $42
Maygars Hill has been awarded in Gourmet Traveller WINE's annual Cellar Door Awards.
You'll find the full review of our cellar door, plus plenty more, in the new look April/May issue of Gourmet Traveller WINE magazine. It's on sale now and available in all good newsagents. Alternatively, download the digital edition for your iPhone or iPad here (Download).
Maygars Hill 2016 Reserve Shiraz chosen in James Halliday's
Best 25 Best Reds for 2018
5 Red Stars from James Halliday's
Australian Wine Companion
James Halliday writes...
"Outstanding winery regularly producing wines of exemplary quality and typicity. Will have at least two wines rated at 95 points or above, and had a five-star rating for the previous two years. 282 wineries, 10%"